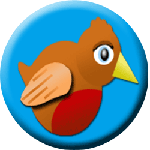 Hi there,
I uploaded this game to "Google Play Store" on 23rd of February 2014.
This game was the quickest I built yet and it's also the simplest, maybe, because I had the background graphics already built for another game I started on last year.
After playing Flappy Bird, I said to my wife I could build a game similar to that, and using the code I developed for another game (coming soon). I built my version of Flappy Bird.

This app is free to download from Google's Play Store.
Hope you enjoy playing this game as much as I have had making it.
Kind Regards.
K Boothroyd (author)